FRENCH OBSERVATORY LETTER – August 2023
FRENCH OBSERVATORY LETTER – August 2023
Please find the issue of Augut 2023 of the French observatory Letter on our website, espece-risque-sante.info : click here to consult it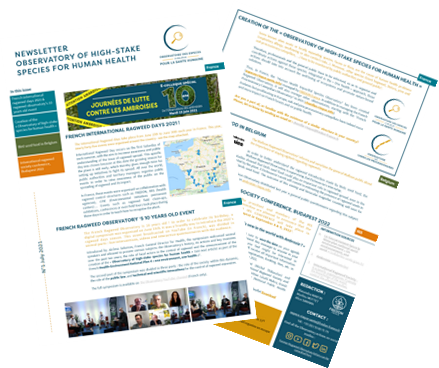 This newsletter aims to provide general and scientific information on the latest news concerning ragweed species and other high-stake species for human health.



In this issue :
International ragweed days 2023 in France

 When does ragweed start pollinating this year in France?

Budapest : Ministerial Conference on Environment and Health

Update of distribution maps of ragweeds in France


If you know anyone who might be interested in this newsletter, please share them the link ! They also can contact us (especes-risque-sante@fredon-france.fr ) and we will send them the next issue (just a few issues are in English: one or two newsletters will be translated each year).