Ragweed – A succesful story
Ragweed – A succesful story
Tackling ragweed:
a multidisciplinary and international approach

Home
After the first International Ragweed Congress in Budapest in 2008 with Tamas Komives, the second one we organized in Lyon in 2012 and the last one in Rho (Milano) organized by our past president Maira Bonini, we have decided to organize a new International Ragweed Congress in Budapest in September 2022, 8-9th
The title of this congress will be RAGWEED: A SUCCESFUL STORY – Tackling Ragweed: a multidisciplinary and international approach.
On this page, you will find all the information you need to participate to the congress: venue, accommodation, "call for abstract" and registration form.
We hope that a lot of scientists, engineers or personalities will join us in Budapest.
Local organizing committee
László Makra, Donát Magyar and Tamás Szigeti
The scientific committee
László Makra – Professor  University of Szeged, Hungary
Tamás Kőmíves – Academician, Hungarian Academy of Sciences, Budapest, Hungary
Donát Magyar – Head of Department, National Center for Public Health, Hungary
László Orlóci – Director, Eötvös Loránd University, Botanical Garden, Budapest, Hungary
Gabriella Kazinczi – Professor, institute director, Szent István University, Kaposvár Campus, Kaposvár, Hungary
Zoltán Botta-Dukát – Professor, Centre for Ecological Research, Hungarian Academy of Sciences, Vácrátót, Hungary
Heinz Mueller-Schaerer – Professor, Department of Biology, University of Fribourg, Switzerland.
Michel Thibaudon – President of the International Ragweed Society
Agenda
October 2021: first call for abstract
January 2022: second call for abstract
March 2022: last call for abstract
1st of April 2022: deadline for abstract
April and May 2022: examination of the abstracts by the scientific committee
End of May: proposal of program
April 2022: registration call
June 2022: registration call
July 2022: registration call
August 2022: late registration
Abstracts
Registration
Venue
The congress will be held at the National Public Health Center in Budapest, Hungary.
Address: Albert Flórián út 2-6., H-1097 Budapest, Hungary
We recommend using public transportation when traveling to the congress venue. When you travel directly from the airport, take bus 200E at the airport (the bus stop is located between Terminal 2A and Terminal 2B) and travel until you reach the final station (Kőbánya-Kispest). Here take metro 3 (M3) until Nagyvárad tér, whereNational Public Health Center.is located. Total time between airport and congress venue is cca. 50 min. If you come from the city center, then reach Nagyvárad tér (metro M3), there is only a 2-3 min walk from the underground station to the workshop venue. Metro 3 repalcement bus (M3) is also available.

You can enter to the territory of the National Public Health Center through the gray building located in Nagyvárad tér 2 ('T' building). Please indicate at the reception that you arrived to the IRS congress meeting and they will let you in. The workshop is located in the 'T' building on the ground floor. Signs will help you to find the connference hall.
Budapest
The capital of Hungary, known by many as the "Pearl of the Danube", is undoubtedly one of the most beautifully located cities in the world. The River Danube runs through the middle of the metropolis of two million, dividing hilly Buda with its narrow-cobbled streets and mixture of mediaeval and neo-classical buildings from the flat area of Pest with its wide boulevards. The picturesque panorama offered by the river and its bridges, the Parliament building, the imposing Royal Castle, the Fishermen's Bastion and the impressive Danube Embankment led UNESCO to place this site on the World Heritage list.

Visitors will find side by side the remains of fortresses and buildings from Roman times, still-functioning Turkish baths, Gothic and Baroque buildings, and the incredibly rich Art Noveau architectural heritage. There is no other capital city in the world which can boast close to 100 thermal springs and 12 medicinal baths, where 19 million gallons of thermal water rise to the surface each day.

It is a city where the pleasing harmony of different architectural styles and superb structures, the cafés, gastronomy and culture are combined with the legendary Hungarian hospitality, blending into an unforgettable experience for visitors.

Budapest is the venue for numerous congresses, international meetings, sports competitions and cultural events, with its developed infrastructure, elegant shops and modern hotels. Budapest's cultural life is widely renowned, with more than 20 theatres and also ample to explore!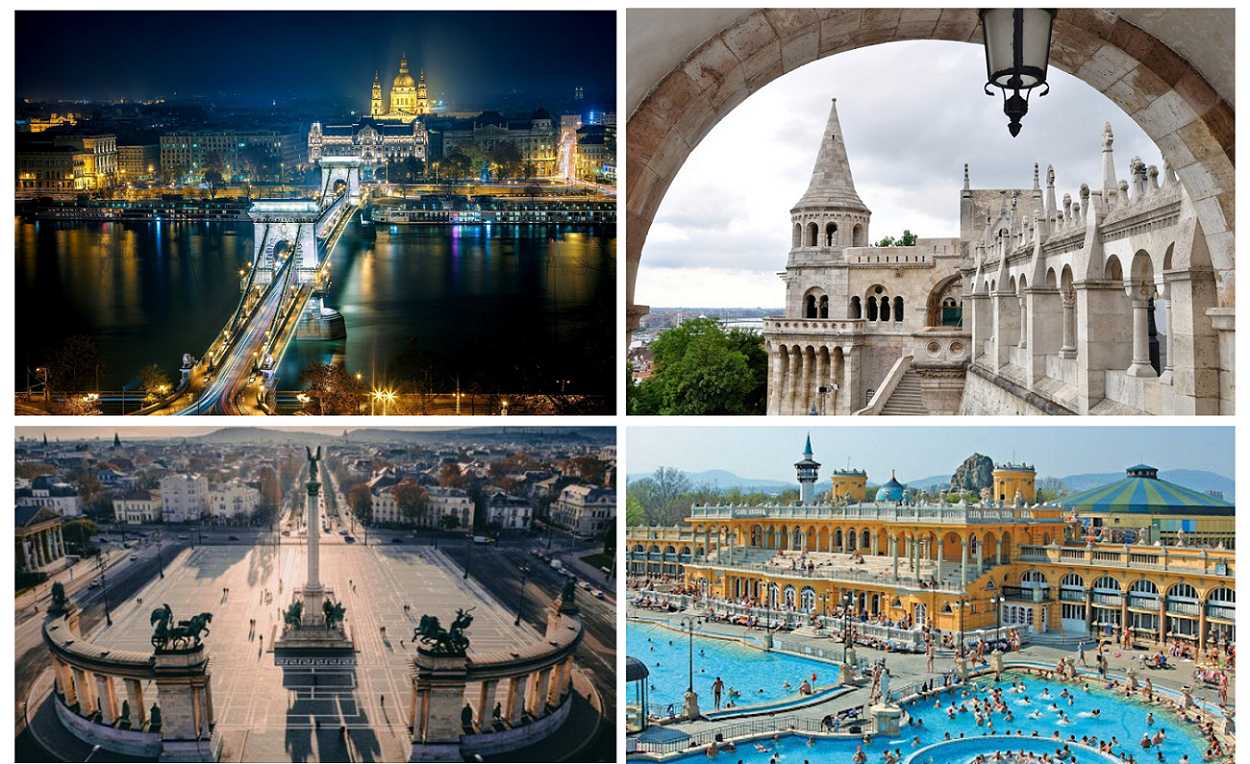 Getting to Budapest
It is very easy to get to Budapest by plane, there are several airlines offering direct flight from several countries. Budapest Ferenc Liszt International Airport is the international airport serving the Hungarian capital city. The airport is located about 16 km southeast of the center of Budapest.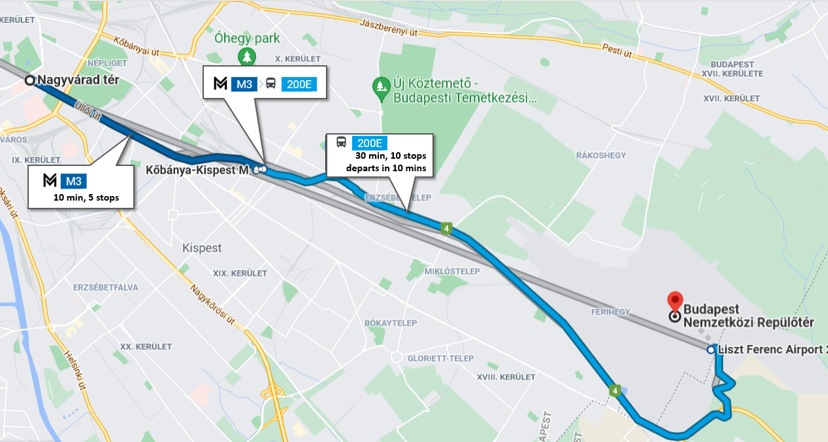 You can reach the city center by public transport (bus 200E and 100E). Bus 200E operates day and night between Terminal 2 and Kőbánya-Kispest M3 station, where you should transfer to M3 to reach Nagyvárad tér metro station. You can purchase your two tickets at the machine located at the bus stop. One single ticket costs 350 HUF (1 EUR). Take metro M3 station from Nagyvárad tér to the city centre. Direct shuttle service 100E operates between the airport and Deák Ferenc tér. Passengers require a special ticket for bus 100E: the airport shuttlebus single tickets costs 900 HUF (3 EUR). You can find further information on the use of public transportation from the airport here.
You can reach the city center by taxi. Reservations can be made in person at the Főtaxi booths located at the exits at Terminals 2A and 2B. At the taxi rank in front of the stands, taxis are parking continuously waiting for passengers. The taxi drive from the airport to the workshop venue cost about 6000 HUF (18 EUR). In Hungary, the taxi decree regulates the price of taxis at a fixed tariff of 300 HUF/km (0.95 EUR/km), in addition to a one-off basic fee of 700 HUF (2.2 EUR) and a waiting fee.
You can use BKK Futár to plan your trip in Budapest.
Please contact Tamás Szigeti for further information (szigeti.tamas@nnk.gov.hu; +36 30 9084346)
Accomodation