PhD studentship in aerobiology
The University of Worcester offers a number of research studentships each year. These are usually three-year, full-time doctoral research studentships. On project is on fungal spores while the second is on grass. Both projects involves traditional aerobiological methods using Burkard traps but also genomic approaches and drone technology.

The titles are:
- "Aerobiology: Detecting spatial and vertical concentrations of fungal spores in the atmosphere using bioinformatics and drone technology"
- " Aerobiology: Phenology of grass flowering at the species level"

The projects are announced here: http://www.worcester.ac.uk/discover/phd-studentships.html
---
Ragweed management and the potential benefit and risk of Ophraella communa in Northern Italy: Researchers meet their Stakeholder
Please find below the program of the conference which will be held October 28th, Friday (8h30-13h00) at the Congress Centre "Padri Oblati", Room "Mantovani Furioli", Rho (MI) - C.so Europa 228
In case of technical problem to register yourself by using the dedicated website, it's possible to fulfill this form and send it to the following e-mail address: formazioneparabiago@ats-milano.it before October 21st.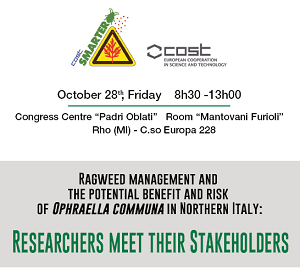 ---
General Assembly
During SMARTER meetings in Vianden was held the IRS General Assembly.
---
6th European Symposium on Aerobiology
During 5 days (between 18th and 22nd of July 2016) was held the 6th European Symposium on Aerobiology in Lyon (France). One afternoon was dedicated to ragweed during a IRS-COST SMARTER joint session.
1 lecture, 10 oral presentations and 7 posters were scheduled:
Bruno Chauvel:

Has allergy to pollen not increased the spread of common ragweed?

Estimating the economic effects of Ophraella communa on common ragweed pollen risks in South-Eastern France.
Matt Smith:

Analysis of airborne Ambrosia pollen in Europe within the framework of Cost SMARTER.
...
---
---
Copyright 2009-2017 International Ragweed Society.
All rights reserved.
Further info
MEMBERSHIP
If you would like to be a member, please fill in the
membership form
!
RECENT LITERATURE
Recent literature on common ragweed is presented here.
"Ambrosia the first international ragweed review No. 29 - Summary"
CONFERENCES
Recent and upcoming meetings where ragweed-related problems are discussed.
1.
Pollen is in the air: invasive plants and allergy in our changing environment. Brussels on March 5-6th, 2015
2.
3rd International Ragweed Conference. April 3-4, 2014, Milan, Italy
3.
Ragweed as invasive plant. August 6-10, 2011, Honolulu, Hawaii
4.
Environmental and invasive weeds. October 2-7, 2011, Ascona, Switzerland
5.
Ragweed in agri-environment, September 20-22, 2011, Budapest, Hungary
6.
Second International Ragweed Conference. March 28-29, 2012, Lyon, France
. The conference closing remarks are readable
here
.
6.
25th German Conference on Weed Biology and Weed Control. March 13-15, 2012, Braunschweig, Germany.
7.
First European Ecocycles Conference. July 22-26, 2013, Palermo, Italy.
CONTROL MEASURES
Evaluated methods of ragweed control are listed here.
EUROPEAN PERSPECTIVE
Ragweed pollen concentration map of Europe at the end of August is shown on this map.
Useful links
EAACI

DHM 2016
21-23 April, Malaga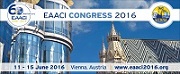 EAACI 2016
11-15 June, Vienna




FAAM 2016
13-15 October, Rome




ISAF 2016
17-19 November, Manchester




9th EAACI/UEMS Examination in Allergology and Clinical Immunology