MARK YOUR CALENDAR - April 3, 2014!
Third International Ragweed Conference
The conference will be held
on April 3-4, 2014 in Rho (Milan), Italy.
Conference Chairs are Maira Bonini (Local Health Authority Milan 1; Italian Association of Aerobiology - Italian Monitoring Network in Aerobiology [A.I.A.-R.I.M.A.]) and Tamas Komives (Plant Protection Institue, Hungary), Head Organizer of the 3rd IRC and President of the International Ragweed Society, respectively.
The conference will be jointly organized with "Ambrosia day, 2014 - Ragweed allergy: 15 years of prevention" (Local Health Authority Milan 1, Lombardy Region, Italy) and will focus on the harmful effects of the pollen of common ragweed in Europe. Basic research together with practical considerations in the field of pollen allergen genetics, aerobiology and meteorological aspects, human (and animal) health aspects and public health issues, ecological and management aspects will be emphasized, along with laboratory, pilot, and modeling studies leading to innovative approaches. Platform and poster presentations will be selected by the technical program committee from abstracts submitted for consideration.
Abstracts are due January 31, 2014.
The Final Program is downloadable here.
For updated information please visit the conference website.
---
General Assembly 2014
Congratulations for the Society's new leaders!
President

: Dr. Maira Bonini, Italy
Vice President

: Dr. Uwe Starfinger, Germany
Secretary General

: Dr. Michel Thibaudon, France
---
Announcing the International Ragweed Day - June 21, 2014
Based on the proposition of allergologist Prof. Dr. Kristof Nekam and Dr. Tamas Komives (President of IRS) the General Assembly of IRS (held in Ascona, Switzerland on October 6, 2011) proclaimed the first Saturday of the summer The International Ragweed Day (IRD) to increase understanding and awareness of the problem this invasive weed causes all over the world. The day was chosen because it is early in the growing season of the plant thereby gives enough time for preparations and actions.
We are urging our members to take part in the organizing work.
---
Welcome to our organization
The Society has been created by researchers studying the common ragweed plant.
The main cause of allergy and pollen asthma in North America and Central Europe is pollen from ragweed (Ambrosia) a widespread genus in the Asteraceae. In Europe short or common ragweed (A. artemisiifolia) is prevalent.
This situation requires a tight monitoring of he plant and the implement of strong control strategy involving not only farmers but also the staff managing natural areas, road sides, building- and gravel industries.
The destruction of many single plant foci may help reducing the number of seeds produced and may slow therefore the spreading of ragweed.
---
Useful links
Follow us:



Photos
Further info
CONFERENCES
Recent and upcoming meetings where ragweed-related problems are discussed.
1.
3rd International Ragweed Conference. April 3-4, 2014, Milan, Italy
2.
Ragweed as invasive plant. August 6-10, 2011, Honolulu, Hawaii
3.
Environmental and invasive weeds. October 2-7, 2011, Ascona, Switzerland
4.
Ragweed in agri-environment, September 20-22, 2011, Budapest, Hungary
5.
Second International Ragweed Conference. March 28-29, 2012, Lyon, France
. The conference closing remarks are readable
here
.
6.
25th German Conference on Weed Biology and Weed Control. March 13-15, 2012, Braunschweig, Germany.
7.
First European Ecocycles Conference. July 22-26, 2013, Palermo, Italy.
CONTROL MEASURES
Evaluated methods of ragweed control are listed here.
EUROPEAN PERSPECTIVE
Ragweed pollen concentration map of Europe at the end of August is shown on this map.
NEWS FROM ITALY
Here you can read a brochure, a poster, and the Annual Report of the Local Health Authority of Milan. The files are in Italian but with plenty of figures: a strongly recommended reading.
PICTURE OF THE MONTH
The best ragweed-related picture of the month: if you would like to see yours here, just send it to us!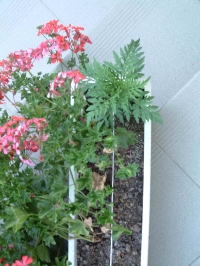 MEMBERSHIP
If you would like to be a member, please let us know!
Membership fees
Individual: 10 Euros
Student: 5 Euros
Senior (> 65 y): 5 Euros
Institutional: 100 Euros