International Ragweed Day - June 24, 2017
What are ragweeds? Why worry? What do we know? What you can do?

Please find all the answers to these questions in this leaflet prepared by the International Ragweed Society (in collaboration with L'Observatoire des ambroisies) for the 2017 International Ragweed Day.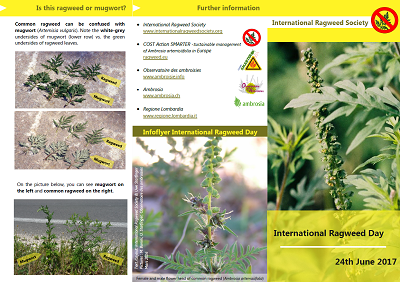 Below, an identification tool (funded by the EU-COST-Action FA-1203) about Ambrosia in Europe (habitus, leaves, seed). You can get the pdf file (English version and Italian version).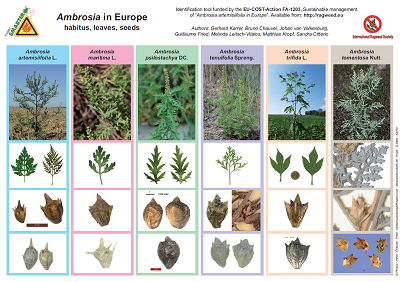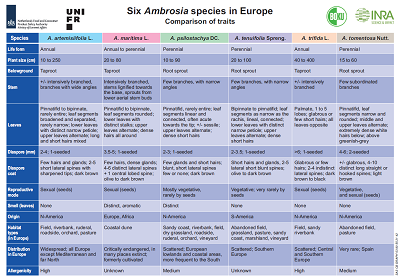 ---
International Ragweed Day - June 24, 2017
In the frame of the International Ragweed Day, AFEDA publish a document about the use of a drone to take pictures about fields with and without treatment against ragweed. Results will be presented during the next general assembly of AFEDA in September (click on the picture to download the corresponding pdf file).
---
---
Copyright 2009-2017 International Ragweed Society.
All rights reserved.
Further info
MEMBERSHIP
If you would like to be a member, please fill in the
membership form
!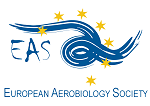 13th Basic Course
Fiskebäckskil, Sweden
From 17th to 24th of July 2017
Content, Registration, Accomodation

11th International Congress on Aerobiology
Parma, Italy
From 3rd to 7th of September 2018
Website of the congress
RECENT LITERATURE
Recent literature on common ragweed is presented here.
"Ambrosia the first international ragweed review No. 29 - Summary"
CONFERENCES
Recent and upcoming meetings where ragweed-related problems are discussed.
1.
Pollen is in the air: invasive plants and allergy in our changing environment. Brussels on March 5-6th, 2015
2.
3rd International Ragweed Conference. April 3-4, 2014, Milan, Italy
3.
Ragweed as invasive plant. August 6-10, 2011, Honolulu, Hawaii
4.
Environmental and invasive weeds. October 2-7, 2011, Ascona, Switzerland
5.
Ragweed in agri-environment, September 20-22, 2011, Budapest, Hungary
6.
Second International Ragweed Conference. March 28-29, 2012, Lyon, France
. The conference closing remarks are readable
here
.
6.
25th German Conference on Weed Biology and Weed Control. March 13-15, 2012, Braunschweig, Germany.
7.
First European Ecocycles Conference. July 22-26, 2013, Palermo, Italy.
CONTROL MEASURES
Evaluated methods of ragweed control are listed here.
EUROPEAN PERSPECTIVE
Ragweed pollen concentration map of Europe at the end of August is shown on this map.
Useful links